About the Frog Follies
AN E'VILLE IRON TRADITION
Join us each August for the largest pre-'49 independent street rod event in the entire nation
In August of 1974 a couple of street rod enthusiasts put a notice in the Evansville newspaper advertising a Sunday afternoon get-together at Wesselman Woods Park for anyone interested in meeting fellow enthusiasts. Thirtyish gearheads showed up to talk cars and swap stories for the day. The group started meeting regularly and by January of 1975 had formed E'ville Iron Street Rods, Ltd, a pre-1949 street rod club. The interest in pre '49 being '48 was the end of a specific body style era and street rod being that the vehicle had to be modified in some way such as modernization to the engine, transmission, or interior.
Shortly after the club was formed, members were excited to host a street rod show. To raise funds to promote that event club members organized Saturday car washes at a local Marathon Station. The first street rod show, held in August of 1975, was a one-day event at the Vanderburgh 4H Center named Der E'ville Iron Street Rod Fest. Approximately 50 street rods attended the inaugural Rod Fest with activities including games, a dance, and a cruise in.
As the event grew, club members discussed rebranding the Rod Fest in efforts to attract more street rodders and spectators. Club members rallied and brainstormed and decided to name the event after the infamous bullfrog jumping contest held at the first Rod Fest. Hence, Frog Follies Rod Run as we know it today was created.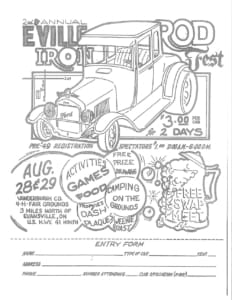 Decades later Frog Follies has grown to an event hosting approximately 3000 registered street rods — the largest pre-'49 independent street rod event in the entire nation. You don't have to be a car enthusiast to enjoy the Frog Follies; but, if you are you'll get a chance to talk to fellow gearheads from all over the country. And, that frog jumping contest? Yes, that tradition continues to this day.
JOIN US EACH AUGUST IN EVANSVILLE, INDIANA AND STROLL THROUGH THE DISPLAYS OF CREATIVELY MODIFIED WORKS OF FOUR-WHEELED ART.